---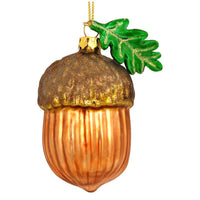 Your loved ones will go
nuts
this year when they see this exquisite acorn and leaf ornament! Painted in natural browns and green, this ornament is sprinkled with a dash of glitter to add some sparkle. Not only is this 3" tall glass ornament pleasant to look at on your tree, but it reminds us that something as humble as a tiny acorn can produce a mighty oak tree.
(Symbol of the Acorn card included.
Symbol of the Acorn
---
The acorn has long been considered a symbol of good luck in Germany where oak trees are considered sacred.
The rebirth of life in the coming of the Christ child is also represented in the acorn. Bearing a tiny seed that will produce a mighty oak, the acorn reminds us that great results can be born of humble beginnings.